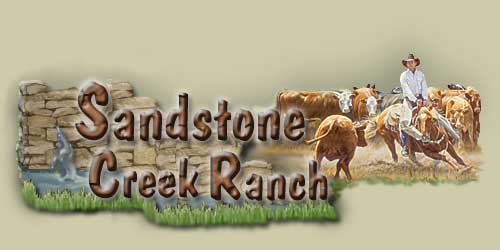 Smart Holly Doc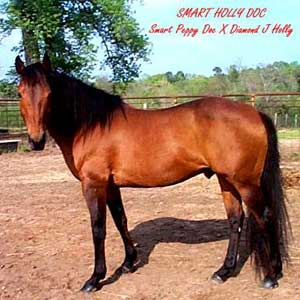 AQHA #2995889 - 1991 Bay
Doc is very easy-going, athletic, and intelligent and passes these characteristics on to his babies. He is an own son of SMART PEPPY DOC out of DIAMOND J HOLLY (a money earning granddaughter of Dry Doc, Miss Ginger Dee and Poco Red Ant). Doc was never given the opportunity to have a show career due to past owner's lack of time for showing (he was a doctor with a very busy practice). Doc possesses all of the attributes that would have allowed him to be a true champion and he passes all of this on to his foals.

Be sure to see his offspring and other horses we have for sale on our Horses For Sale pages!
Smart Peppy Doc


NCHA - $124,489




NCHA - Silver Award




NCHA - Get earnings $529,278

Doc O'Lena


Futurity Champ




NCHA - Get earnings $13.8Mil

Doc Bar


NCHA - Hall of Fame

Poco Lena


NCHA - Hall of Fame

Smart Peppy


NCHA - Get earnings $1.2mil

Peppy San


NCHA - World Champion




NCHA - Hall of Fame

Royal Smart


NCHA - Get earnings $176,991

Diamond J Holly


NCHA - $854

Doc's Pop Smoke


NCHA - $897




NCHA - Get earnings $21,982

Dry Doc


NCHA - Hall of Fame




NCHA - Get earnings $3.7mil

Miss Ginger Dee


NCHA - Futurity co-champ




NCHA - $5,942

Lemac Poco Susan
Poco Red Ant


NCHA - $323




AQHA Champion Sire

Holly's Susan
Tari Rey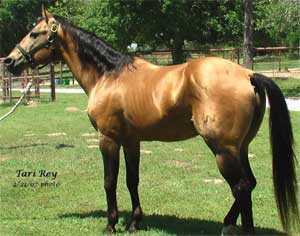 AQHA #2173919 - 1984 Buckskin
Tari is one of the most beautiful golden buckskins you could ever hope to see. An own son of the great Doc Tari (#19 All-Time Leading Cutting Sire), Tari Rey is a wonderful combination of strength, beauty, agility, quickness, athleticism, intelligence and great disposition and temperament.

He has a beautiful head with large soft eyes, good straight legs with lots of bone, short canon bones and low hocks, and a large hip. Although Tari was purchased as a two-year-old for $20,000.00 (in 1986!) as a prospect, his new owner never carried through on his show career. What a shame! -- as he is passing on to his offspring all the traits that would have carried him to the winners circle, and will lead them to it as well.

Tari is a full brother to Jesse Rey Tari who has excelled in the cutting arena with lifetime earnings well over $100,000.00. Another notable offspring of Doc Tari who is also related to Tari Rey is the well known and popular Zack T Wood.
Doc Tari
Doc Bar
Lightning Bar
Dandy Doll
Puro's Linda
Puro Tivio
Mattart's Luckylinda
Tamu Jessie Rey
Rey Jay
Rey Del Rancho
Calandria K
Choo Choo Jessie
Jessie James
Miss Red Deck

Sandstone Creek Ranch
Gladewater, TX
903-988-2146

© Sandstone Creek Ranch
March 31, 2003


Web Site Design by:
Jeanie Stewart
A+ Web Designers